SERVICE DEPARTMENT
We Work Hard For YOU.
WHY SERVICE WITH US?
With more than 60 years of combined experience in bakery equipment, our highly qualified Service & Technical support team is here to provide exceptional service in a timely manner. We take the stress out of servicing your equipment from beginning to end.
Our massive inventory, over 40,000 parts in stock, makes it possible for our Service technician to travel with a multitude of parts to keep your bakery equipment downtime to a minimum. We work hard to get your business up and running.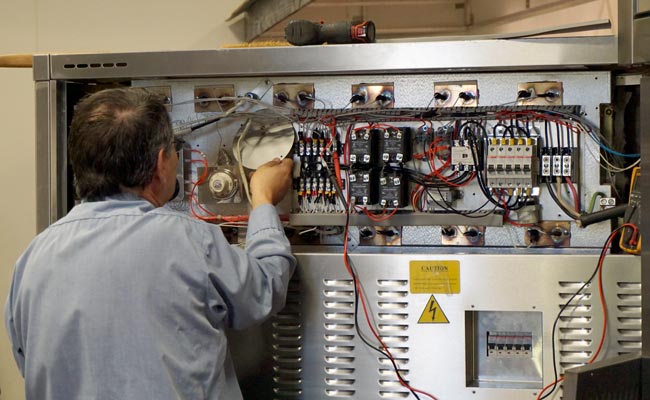 SERVICE AREA
We Come To Your Front Door
Are you in need of service in your bakery equipment? Trust the service center that knows your equipment well. From equipment installation to maintenace or repair our highly qualified Technicians will not only meet your needs, they will by far surpass your expectations.
We understand that time is important to you, that is why our service technicians will travel to your front door to service your equipment and get you up and running as quickly as possible.
SERVICE ZONE AND RATES
We travel all over the U.S. to install, service and repair bakery equipment. We are committed to providing you with the best services at the best possible price.
In order to keep our services fees as fair and low as possible to our valued customers we have the following zone rates.
TRAVEL ZONE
DISTANCE (mi.)
REGULAR
OT
Zone 1
Up to 15
$119.00
$190.00
Zone 2
Up to 30
$146.00
$220.00
Zone 3
Up to 50
$184.00
$350.00
Zone 4
Up to 75
$290.00
$490.00
Zone 5
San Diego Area:
76 - 149
$390.00
$590.00
Zone 6
150 to 200
$490.00
$690.00
Zone 7
Greater than 200
Call Us
Call Us
| LABOR TYPE | RATE/HOUR |
| --- | --- |
| Regular | $ 98.00 |
| OT* & Weekend | $ 148.00 |
| Double Time | $ 198.00 |
Zone is determined by distance from Food Makers Bakery Equipment to your location.
To determine your Zone, you must determine your distance from Food Makers Bakery Equipment.
SCHEDULE AN APPOINTMENT
Need to schedule and appointment? Simply give us a call and tell us what your service needs are. One of our friendly customer service representatives will answer any questions you may have and will schedule the earliest appointment available.
SERVICE DEPARTMENT
(844) 801-2676
Our Regular business hours are Monday to Friday from 8:00 A.M. to 4:30 P.M.
PREVENTIVE MAINTENANCE PROGRAM
Your equipment requires maintenance and our preventive maintenance program is designed to prevent system failure. Regular scheduled maintenance will enhance and expand your equipment lifespan. It will save you time, money and piece of mind.
The following is just a short list of what our program covers.
SCHEDULED MAINTENANCE CHECK LIST
OVENS
Inspect &clean blower and Burner
Lube oven door hinges
Inspect clutch and gear box oil
Inspect drive and timing belt
Inspect water & steam system/filter
Inspect controls
Inspect timer & lights
Lube oven drive
PROOFERS
Inspect & clean humidity tank
Inspect water & filter system
Check & calibrate relative humidity
Check inside lighting
Check door hinges & seals
BOLILLO MACHINE
Check track conveyor belt
Check drive belts
Adjust tension
Thoroughly clean rollers & scrapers
Check controls
Check safety system
HOBART MIXERS
Check belts
Check controls
Test safety switch
Test bowl release operation
Clean machine
SPIRAL MIXERS
Check belts
Check controls
Test safety switch
Clean machine
DIVIDER ROUNDER
Check oil level
Thoroughly clean knife assembly
Check belts
Adjust height on blades
Check Controls
OVEN RACKS
Clean & lube casters
Document condition